Waklert Review: Best Generic Armodafinil Available?
I'm rarely impressed with new nootropics these days, but Waklert caught my attention. That's why I'm writing this Waklert review – because the smart drug is a powerful cognitive enhancement tool.
After having experimented successfully with Modalert, I wanted to move on to something that was stronger and more potent.
So, I started doing my research and came across Modalert's cousin, Waklert. Of course, using my body as a guinea pig, I tried it a few times and really liked its effects.
Plus, I like to think Waklert was the reason I was able to get great grades in my finals!
In today's blog post, I wanted to write a good Waklert review for those who are also looking to try this drug.
Let's take a look!
P.S: I am not a doctor. This is not medical advice. This article is solely for entertainment purposes. Please see our disclaimers page for more information.
Armodafinil and Modafinil: The Difference Between Modalert and Waklert
Modalert and Waklert don't just sound similar.
They contain active ingredients that are closely related to each other.
In simple words, Armodafinil and Modafinil are cousins. Created in the 90s, Modafinil was one of the most successful and popular drug to treat conditions like sleep apnea, shift-work disorder, and narcolepsy.
Then, scientists sought to create something a little bit strong.
And, thus, Armodafinil was created in the 2000s in France by Lafon Laboratories—the same company that created Modafinil—-under the brand name 'Nuvigil' (Source).  
In the recent years, Armodafinil has gained popularity due to:
A purer 'high' than Modafinil

Smaller doses
And, Waklert is a type of generic Armodafinil you can find in the market.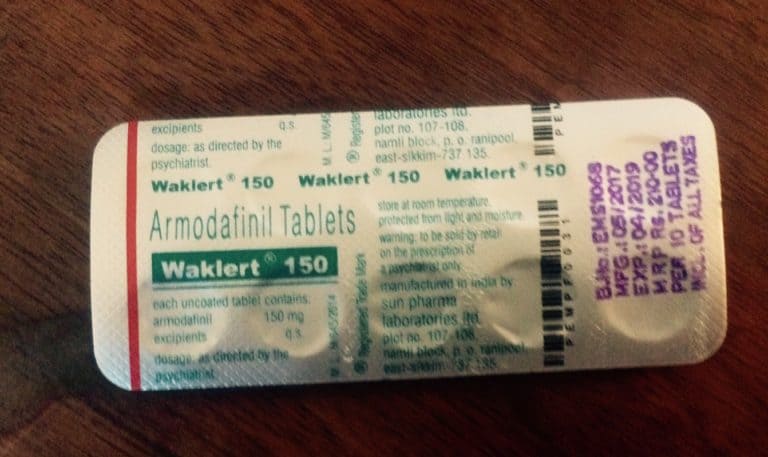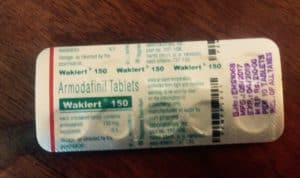 Waklert Review: Digging Deeper
Waklert and Modalert are sisters that are created by Sun Pharma in their FDA-approved facility. The company is the world's fifth largest pharmaceuticals company which is headquartered in Mumbai, India.
Waklert costs only a fraction of the price of Nuvigil!
The Waklert pills are available in hard plastic covering and high-quality aluminum blister packs that contain 10 pills. These packs are strong and durable.
Being an Armodafinil, you will require smaller doses of Waklert in order to achieve the same effect as Modalert and also get a 'purer' high.  
Why Choose Waklert?: A Few Benefits
~ Wakefulness: Keep in mind that just like it is with Modafinil, Waklert will also contribute to wakefulness. So, when ingesting this drug, keep in mind that you will not be able to go to sleep for the 8-12 hours.
Even though the half-life of Waklert is shorter, you will focus for the greater half of the day after taking Waklert.
~ Shorter Half-Life: At 150 mg, Waklert lasts 8-12 hours while Modafinil lasts for about 12-14 hours. Waklert tends to work through your body in a quicker manner making the half-life of this drug shorter.
This means that even if you take Waklert around 12:00 pm, you will still be able to go to sleep during your normal bedtime.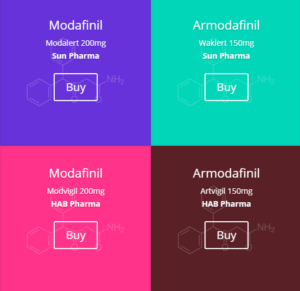 ~ Purer 'High': Since Waklert has an enantiomer structure, the effects or 'high' that you get from this drug is strong and fairly pure. The thing that I personally like about Armodafinil is that it doesn't work for as long as Modafinil.

This means that the effects begin more quickly and are smooth. Some also feel that the cognitive benefits of this smart drug are similar to those of Modafinil.
~ Improved Cognition, Focus, & Productivity: You will find better cognitive benefits while taking Armodafinil. This includes being extremely focused and a skyrocketed productivity.

I, personally take Waklert for the strong cognitive benefits (and better sleep). I feel that this drug is ideal for students who have a paper due in 24 hours!
~ Less Amount Needed: You must know by now that Waklert is known to be a purer form of Modafinil. This means that you won't have to take a bigger dose of this in order to feel the same effects.

Most users that I know feel that 150 mg dose of Armodafinil offers effects similar to a 200 mg dose of Modafinil. While some prefer this, because it is easier on one's body, others feel that Modafinil 200 mg is.

What I feel is that because of the high of Waklert is 'purer', I tend to feel focused for a long time without having to sacrifice my sleep.

Modalert vs Waklert
Waklert is for you if you want to be productive, focused, and alert without taking the risk of dangerous side effects—and getting a good night's sleep.
Modalert and Waklert are cousins. While Waklert has an ideal half life and kicks in before Modalert does, the effects of the latter last longer.
So, what might be a pro for someone may be a con for someone else.
Following are a few of the benefits of Waklert:
Twice as potent as Modalert

Little or no fatigue

Since it is more potent, smaller doses are required

Longest lasting on the market
But, there's one thing that new users should keep in mind…
Always try Modafinil before you try Armodafinil. So, Modalert before Waklert.
Why? Because even though the effects of Waklert last for a shorter period of time, it is twice as long lasting and potent as Modalert.
So, try Modalert first and work your way up to Waklert if you find it to be not strong enough. This way, you'll also be able to see how your body reacts to such a smart drug.
Dosage Information: How Much Waklert Should I Take?
Since Waklert and Modafinil are essentially similar, the tolerance and dosage guidelines are similar as well. The dosage of Armodafinil is 150 mg which is very close to the 200 mg standard Modafinil dosage of Modafinil.
I would recommend that you start by taking a 150 mg dose of Waklert which will help ensure that you get the full benefits of this drug, like the 8-12 hours of cognitive benefits.

But, make sure that you do not consume more than 300 mg of Armodafinil in a day unless you're experienced with using smart drugs.
When speaking of tolerance, you should stick to taking Waklert for 1-3 times a week. If you listen to anything in my Waklert review, listen to this. 
The Side Effects of Waklert
Even though Waklert is not known for causing too many or too harmful side effects, there are still a few minor side effects that bother users.
Waklert is extremely potent and is safe to consume, but you should still be vigilant and keep an eye out for side effects such as (Source):
Fatigue

Mild headaches

Nausea

Nervousness

Dizziness

Other stomach issues
There's more…
Even though the cases are extremely rare, a few people have experienced severe side effects including allergic reactions because of consuming Waklert. You should go to the doctor immediately if you feel any of the following effects:
Swelling of face, lips, or tongue

Hives

Difficulty breathing
Keep yourself safe! While you shouldn't have any issues with Armodafinil at all, always be aware of what "could" happen. 
Waklert Review: Is Generic Armodafinil Worth Your Money?
Honestly, with the experience that I have had with this generic Armodafinil, I feel that it is worth buying if you're looking to get a good night's sleep and being able to focus on your work.
I feel that Waklert is worth your money and has many advantages. It's one of the best smart drugs available!
But, do keep in mind that everyone is different. So, you should try Waklert yourself to find out exactly how your body would react to this nootropic.

Have questions about this Waklert review? Let me know in the comments section and I'll help you out!
About the Author
I created Smart Drugs For Students after finding nootropics at the start of my junior year at university. I was a lousy student. But with a little help from smart drugs, I went from dud to stud. Soon, I was acing mid-terms and getting offered paid internships. All because of nootropics. Whether you're a student or just someone looking to improve their life and make more money, smart drugs can help you do just that. That's why I created this site. To show other show to safely and properly benefit from smart drugs.